Action of the simple cell
Although Volta found that various metals and salt or acid solutions could be used to make a simple cell. it is customary today to regard a simple cell as being composed of a plate of copper and a plate of zinc dipping into dilute sulphuric acid (Fig. 34.4). When the copper and zinc plates of a simple cell are joined by a wire the zinc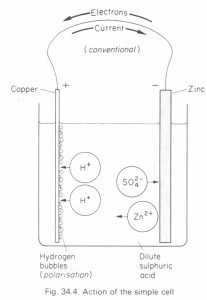 slowly begins to dissolve in the sulphuric acid, and bubbles of hydrogen are formed on the copper plate. At the same time a current of electrons drifts through the wire from the zinc to the copper. This action may be explained as follows. Pure sulphuric acid has the chemical formula H2S04, but when added to water the S04 group of atoms separates from the two hydrogen (H) atoms, taking two electrons with them, one from each hydrogen atom. The hydrogen atoms therefore have a net positive charge. In this electrically charged condition the atoms or groups of atoms are referred to as ions. The ionization of sulphuric acid in water can be represented by H2S04 = 2H+ + S042- As zinc atoms dissolve from the zinc plate they go into solution in the form of zinc ions, Zn2 +, each of which leaves two electrons behind on the plate. These electrons are the source of the electron current which goes through the wire from the zinc to the copper. We may think of the zinc ions as being attracted into the solution by the SO 42- ions. From the chemical point of view this would be described by saying that the zinc dissolves in the sulphuric acid to produce zinc sulphate.
Normally, when zinc dissolves in acid, internal molecular energy is produced and the solution gets warm. In the simple cell the action of the acid on the zinc results in the production of electric energy instead. At the same time as the zinc ions enter the solution from the zinc an equivalent number of hydrogen ions leave the solution and deposit themselves on the copper plate. Here they receive an electron from the copper, become neutral atoms and are liberated to form gas bubbles. By losing electrons in this way the copper becomes positively charged, and this enables it to attract electrons from the zinc through the connecting wire.  his
movement of electrons through the wire is called an electric current.
Related Physics Topics for Tuition