Applications of electrolysis
Some of the commercial applications of electrolysis were mentioned at the beginning of this chapter. Industrially, electrolysis also plays an important part in the refining of copper (Fig. 37.2). Large plates of crude copper enclosed in canvas sacks are made
to form the anodes in vats containing copper sulphate solution. The cathodes are thin sheets of pure copper (Fig. 37.3). When current is passed through a cell, copper is dissolved out of the anode and deposited on the cathode. Impurities in the anode are
left behind in the canvas sack and are later removed and disposed of. Copper purified in this way is called electrolytic copper. By reason of its exceptional purity it has a very low electric resistance, and this makes it suitable for the manufacture of electric cables.
Before it was discovered that aluminium could be extracted from its ore, bauxite, by an electrolytic process this highly useful metal was little more than an expensive chemical curiosity. From bauxite an oxide of aluminium called alumina is extracted
(AI203). This does not dissolve in water, but dissociates when dissolved in the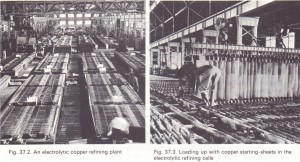 molten mineral cryolite (Na3AlF 6)' The process is carried out in specially designed electrolytic furnaces (Fig. 37.4). These furnaces have a bed made of carbon, which acts as the cathode. The anodes are thick carbon rods which dip into a mixture of alumina and cryolite. A very high current is passed which causes the mixture to melt. Electrolysis then occurs, with the result that aluminium is liberated at the cathode and forms a molten layer on the bed of the furnace. From time to time the aluminium is run off and fresh alumina and cryolite added.