The cathode ray oscilloscope
The cathode ray oscilloscope is an instrument used for studying the current and voltage wave forms in various electric circuits. In this connection it is very useful for checking laboratory electric equipment and television and radio receivers.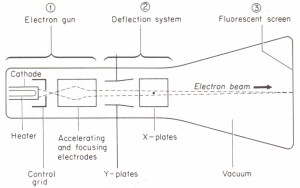 The chief feature of an oscilloscope is the cathode ray tube, which is a vacuum tube containing three main components (Fig. 14.13). These are:
(I) The electron gun which consists of an electron-emitting hot cathode, followed by a series of cylindrical and annular (ring-like) anodes at high positive potentials with respect to the cathode. These not only accelerate the electrons but also focus them into a fine beam. A variable, low, negative voltage can be applied to the control grid in order to vary the number of electrons passing through it. This alters the brightness of the spot on the screen.
(2) The deflection system which can deflect the electron beam either vertically or horizontally. This comprises two pairs of plates; a horizontal pair called the Y-plates and a vertical pair called the X-plates. These plates are parallel in their transverse directions but open out at an angle lengthwise in order to allow a bigger angular deflection of the beam. When a potential difference is applied across either pair of plates, the electric field set up between them will deflect the beam in the appropriate direction.
(3) A fluorescent screen at the end of the tube on to which the electron beam is focused to form a bright spot which will trace out a pattern on the screen according to the voltage variations (signals) applied to the X- and Y-plates. To illustrate the action of the oscilloscope we shall now describe some of its more simple applications.
Related Physics Topics for Tuition