Cathode rays deflected by a magnetic field
The path of cathode rays can be rendered visible by allowing them to impinge upon a screen coated with zinc sulphide and placed at a small angle to the line joining the electrodes of the discharge tube (Fig. 44.4). If a bar magnet is placed at right angles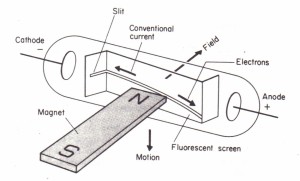 to the tube with its N pole against the glass as shown in the diagram the rays are
seen to bend downwards. If the rays are a stream of negative electrons moving from left to right they are equivalent to a positive or conventional electric current in the reverse direction. It is clear, therefore, that if this assumption is true the rays behave like an ordinary electric current and obey Fleming's left-hand rule (page 436).
Incidentally, this experiment was a strong argument against the notion that cathode rays were of the same nature as light waves, since no one had ever been able to show that light could be deflected by a magnetic field.