The Coolidge hot-cathode tube
For reasons which cannot be discussed here the wavelength of the X-rays produced by the early gas tubes was difficult to control. Modern tubes are based on a method devised by W. D. Coolidge in 1916 (Fig. 44.8). In this tube the cathode takes the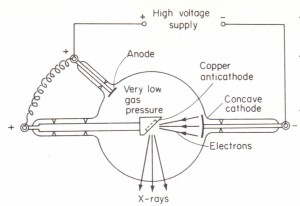 form of a spiral of tungsten wire which, when heated by an electric current, gives out a stream of electrons by a process called thermionic emission (page 516). The spiral is surrounded by a short metal cylinder which serves to focus the cathode rays on to the anticathode.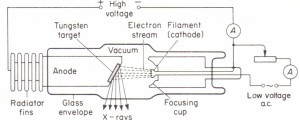 The electrons are speeded up in the usual way, by applying a high p.d. between the cathode and  nticathode. The higher the voltage used, the shorter is the  avelength
of the X-rays and the greater is their penetrating power. Very short wavelength Xrays are described as hard, as distinct from the less penetrating soft rays of longer wavelength which are produced at lower voltages. The intensity of the rays is governed by the filament current, which controls the temperature of the tungsten filament, and hence the rate of emission of electrons. Only part of the energy conveyed by the fast-moving electrons is transferred to Xradiation.
The rest becomes transferred to internal energy in the target when the electrons are brought to rest on impact. This energy, in turn, is conducted away as heat through the copper anode to the cooling fins outside.