Discharge tube phenomena
In order to study the electric discharge in air at low pressure an extra high tension (e.h.t.) unit is required. This is used to apply a potential difference of 1000V or more between two electrodes at opposite ends of a glass tube 15 or more em long. The
tube is connected to a vacuum pump through a side tube (Fig. 44.1). The appearance of the discharge at various stages while the air is being pumped out of the tube is shown in Fig. 44.2. Shortly after starting the pump a brush discharge appears at the electrodes, but by the time the pressure is down to about ~O mmHg the electrodes are joined by one or more wavy violet streamers. On further reduction of pressure the streamers broaden out into a deep salmon-pink discharge which practically fills the space between the electrodes. At 5 mmHg pressure a dark region, called the
Faraday dark space, appears near the cathode and divides the column into two parts, the pink positive column ending in the anode glow and a blue negative glow in the neighbourhood of the cathode. As the tube is evacuated still further the positive column shrinks to wards the anode and begins to break up into striations. The Faraday dark space (F.D.S.) and the negative glow increase in length, and a second dark region, the Crookes dark space (CD.S.), appears near the cathode.
It is important to note that the length of the dark spaces depends only on the pressure and not on the length of the tube. The remainder of the tube, whatever its length, is filled with pink positive column. By the time the pressure has reached 0.01 mmHg, the pink positive column and the negative glow have disappeared and the Crookes dark space extends to fill the whole of the tube. At this stage also the walls of the tube show a green fluorescence.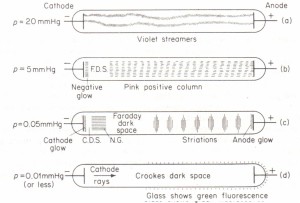 It may be noted in passing that the type of discharge shown in Fig. 44.2 (b) is used in the familiar advertising sign tubes. In these the colour obtained depends on the nature of the gas and the material of the glass. The orange-red tubes contain neon, while a green colour is obtained by the use of mercury vapour in uranium glass.
Related Physics Topics for Tuition