Gravitation Near Earth's Surface
Let us assume that Earth is a uniform sphere of mass M. The magnitude of the gravitational force from Earth on.a particle of mass m, located outside Earth a distance I' from Earth's center.
If the particle is released will fall toward the center of Earth. as a result of the gravitational force.
L Earth is not uniform. The density (mass per unit volume) of Earth varies radially as shown in. and the density of the crust (or outer section) of Earth.
2. Earth is not a sphere Earth is approximately an ellipsoid, flattened at the poles and bulging at the equator.
3. Earth is rotating. The rotation axis runs through the north and south poles of Earth. An object located on Earth's surface.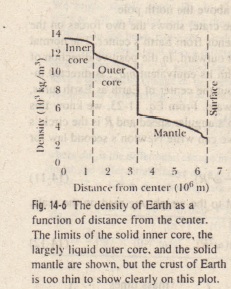 Related Physics Topics for Tuition