The Leclanche cell
Following the discovery of the simple cell, came the invention of a number of different cells in which polarization was either reduced or eliminated. All these have long since passed into history, but one which survived until comparatively recent
times was the Leclanche cell, invented by Georges Leclanche about 1865. It has an e.m.f of l.5 V and came into use for working electric bells and telegraphs (Fig. 34.5).
Its positive pole is a carbon plate surrounded by a depolarizing mixture of powdered carbon and manganeseuv) oxide in a porous pot. This together with a zinc rod, is placed inside a glass jar containing a solution of ammonium chloride (sal ammoniac).
Polarization by the hydrogen atoms is prevented by the rnanganeseuv) oxide which oxidizes the hydrogen to form water. One disadvantage of this cell is that the depolarizing action of the manganeseuv) oxide is slow, so that if a large current-is taken from the cell the manganeseuv) oxide cannot oxidize the hydrogen as fast as it is formed. Some polarization then takes place and the e.rn.f. of the cell falls. If the cell is allowed to rest for a time the depolarizing action continues to completion and the original e.m.f. is restored.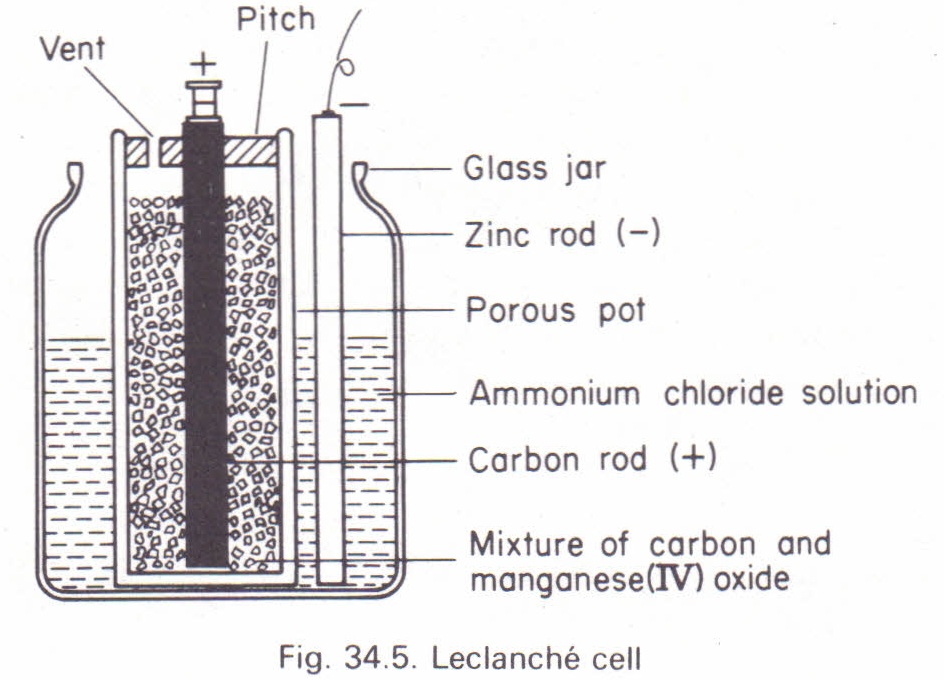 For this reason, the Leclanche cell is unsuitable for maintaining a steady current over a long period. These cells were, however, found to be very satisfactory for working electric bells and other purposes where only an intermittent current is required. With the occasional addition of water to make up for loss by evaporation, Leclanche cells will run for very long periods without attention. They are rarely seen today: their place has been taken by dry cells.
Related Physics Topics for Tuition