Lenses and optical instruments
Magnifying glasses or lenses have been in use for centuries and were well known to the Greeks and medieval Arabs. Lenses of many different types play an important part in our own everyday life. Apart from the benefit of spectacles which enable millions of people to read in comfort, our lives would be vastly changed if we had no cameras, projectors, microscopes or telescopes, all of which function by means of lenses.
Not all lenses can be used as magnifying glasses. There are some, used in opera glasses and in spectacles for short-sighted persons, which always give a diminished, erect virtual image. These are referred to as concave or diverging lenses, while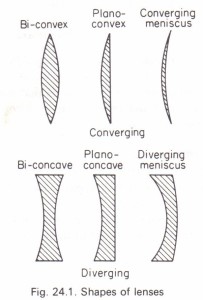 magnifying glasses are called convex or converging lenses. The two types can be readily distinguished from one another; converging lenses are thickest in the middle  while diverging lenses are thinnest in the middle. Fig. 24.1 illustrates some of the more common types of lenses.
Related Physics Topics for Tuition