The lightning conductor
Based on the experiments described above, Franklin considered that it ought to be possible to protect a building from lightning damage by fixing, to the side of the building, a long pointed iron rod with its lower end buried in the earth. Tests were soon to prove the method successful.
In present-day practice a lightning conductor takes the form of a thick copper strip fixed to an outside wall, reaching above the highest part of the building and ending in several sharp spikes (Fig. 32.20).When a negatively charged thunder-cloud passes overhead it acts inductively on the conductor, charging the points positively and the earthed plate negatively. The negative charge on the plate is, of course, immediately dissipated into the surrounding earth. At the same time point action occurs at the spikes. Negative ions are attracted to the spikes and become discharged by giving up their electrons. These electrons then pass down the conductor and escape to earth. At the same time positive ions (see page 376), are repelled upwards from the spikes and spread out to form what is called a space charge. This positive space charge, however, has a negligible effect in neutralizing the negative charge on the cloud. The fact remains that because it projects above the highest part of a building a lightning conductor will accept any discharge which may occur and conduct it harmlessly to earth.
Without the protection of a lightning conductor the lightning usually strikes the highest point, generally a chimney, and the current passes to earth through the path of least resistance. Considerable heat is generated by the passage of the current, and masonry tends to split open through the sudden expansion of steam from the moisture contained in it. Sometimes the current has been known to find a path through soot inside a chimney, and to set it on fire. Franklin was fortunate that his experiments were confined only to the inductive effect of a thundercloud on a vertical rod. Richman, less fortunate, received a lightning discharge as well.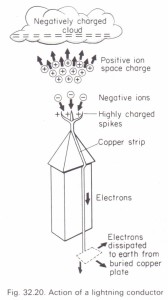 Related Physics Topics for Tuition