To measure the specific heat capacity of a metal (solid block method)
This method is suitable for a metal which is a good thermal conductor, e.g., copper or aluminium.
A cylindrical block of the metal is drilled with two holes, one to receive an electric immersion heater and the other a thermometer. A little oil may be used in the holes to ensure good thermal contact. Heat losses may be reduced by standing the block on a slab of expanded polystyrene and covering its top with the same material. The lagging is completed by wrapping its sides with several thicknesses of 2 mm thick expanded polystyrene. The material sold in rolls for house wall insulation is suitable
for this purpose and, when cut to size, may be fastened with adhesive tape (Fig. 42.1). The heater circuit is connected as shown but before inserting the heater into the block the rheostat should be adjusted for a suitable current (2 to 4 A may be suitable with a 12 V supply). The current is switched off and the heater allowed to cool before insertion in the block.
The temperature of the block is noted. The current is switched on and simultaneously the time is read from a seconds clock (alternatively a stopclock may be used). Readings of the voltmeter and ammeter are taken and the current kept constant by adjustment to the rheostat as necessary. After the temperature has risen by about 10 degrees, the time is noted and  imultaneously the current is switched off. The final steady reading of the thermometer is taken, remembering that a slight delay may be necessary to ensure thermal equilibrium between heater and block. The block alone is weighed when cool, either before or after the experiment, and the readings recorded as shown.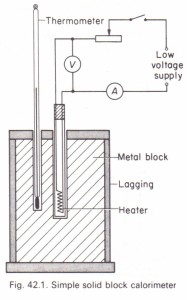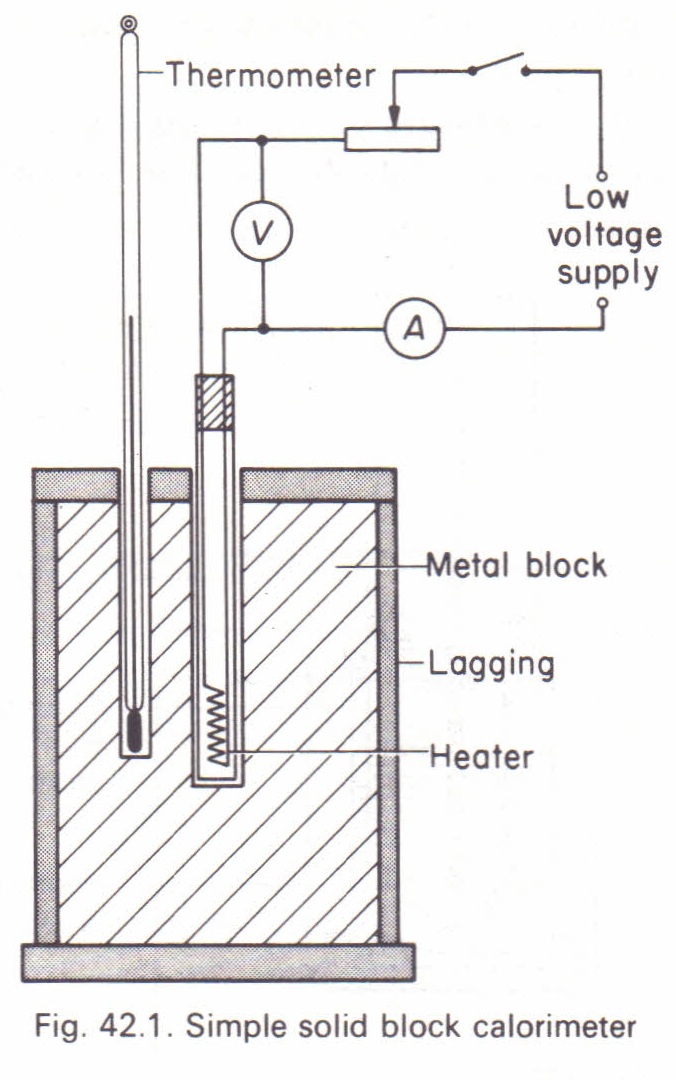 Note.
(1) The small heat capacities of the heater and thermometer have been neglected. (2) The SI unit of specific heat capacity is the Jjkg K, although some scientific workers find the sub-unit, Jig K, more convenient.