To measure the specific latent heat of steam (approximate method)
A large calorimeter provided with a lid is weighed, first empty, and then when threeparts full of water. An electric immersion heater is placed in the water and connected in circuit as shown in Fig. 42.4.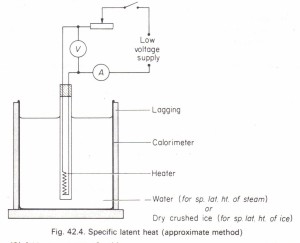 Loss of heat may be reduced by lagging the calorimeter with expanded polystyrene in the manner as described for the solid block experiment on p. 472. The lid is removed, and the current switched on and adjusted to a suitable value. As soon as the water starts to boil, a stopc1ock is started. The current is kept constant by the rheostat, and switched off 15 minutes later. The immersion heater is then removed and the calorimeter immediately covered with its lid to prevent further loss of vapour. Having removed the polystyrene jacket the calorimeter is cooled by immersion in cold water and then dried with a cloth and reweighed. The various readings to be taken are detailed below.
Comment
In the above experiment, although we took precautions to reduce heat loss and prevent loss of vapour, we could not avoid error owing to loss of vapour during the period when the water was coming to the boil. We shall now describe a more accurate experiment in which these particular errors are largely eliminated.