Need for care when using a gold-leaf electroscope
Fig. 32_11 shows what happens when a strong negative charge is brought near to the cap of a positively charged electroscope. Starting with the charge high above the cap, the leaf divergence decreases as the positive charge on the leaf and plate become
partially neutralized by free electrons which are repelled downwards (Fig. 32.11 (h)). As the charged rod is gradually lowered, more electrons will be repelled to the leaf and plate, until eventually the former collapses completely, when its positive charges
become exactly neutralized (Fig. 32.11 (cj), After this stage has been reached a further lowering of the charged rod will cause the leaf to diverge again, since the leaf and plate now acquire an excess of electrons (Fig. 32.11 (d)).
It is therefore obvious that a charged body must be brought from a good height slowly down towards a cap of a gold-leaf electroscope so that the initial decrease in leaf divergence (if any) will not be overlooked. Otherwise, if the charges are of opposite sign and the observer notices only the final increase in divergence he will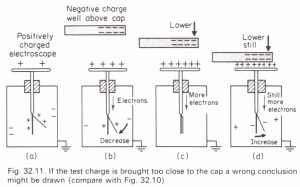 conclude wrongly that the test charge and the electroscope charge are of the same kind.