Planets and Satellites: Kepler's Laws
The motions of the planets, as they seemingly wander against the background of the stars, have been a puzzle since the dawn of history. The motion of Mars, was particularly baffling. Johannes Kepler (1571-1630), after a lifetime of study, worked out the empirical laws that govern these motions.
1 THE LAW OF ORBITS: All planets move in elliptical orbits, with the Sun at one focus.
2. THE LAW OF AREAS: A line that connects a planet to the Sun sweeps out equal areas in the plane of the planet's orbit in equal times; that is, the rate dA/dt at which it sweeps out area A is constant.
3. THE LAW OF PERIODS: The square of the period of any planet is proportional to the cube of the semi major axis of its orbit.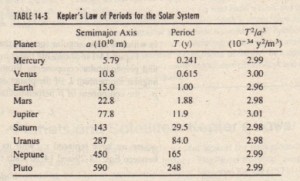 CHECKPOINT 5: Satellite I is in a certain circular orbit about a planet. while satellite
2 is in a larger circular orbit. Which satellite has (a) the longer period.
Related Physics Topics for Tuition