Production of a pure spectrum. Spectrometer
A better method of obtaining a pure spectrum than the one just described is to use a parallel beam of light as in an instrument called a spectrometer. This is used for examining the spectra of hot gases and other sources of light (Fig. 25.3).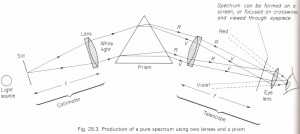 An illuminated slit is placed at the principal focus of a converging lens so that a parallel beam of light emerges from it and falls on a prism. Refraction through the prism splits up the light into separate parallel beams of different colours, each of which is brought to its own focus in the focal plane of a second lens. Here the spectrum may be formed on a white screen or, alternatively, viewed through a magnifying eyepiece. The combination of slit and first lens is called the collimator (to collimate means to make parallel). The second lens with cross wires in its focal plane, together with the eyepiece form a telescope. (See Fig. 25.4.)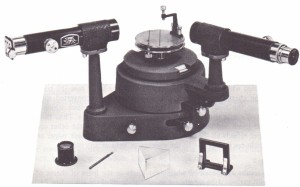 Fig. 25.4. In this spectrometer the collimator with its adjustable silt IS seen on the left; and the telescope with its eye-piece on the right. The rotating table in the centre supports the prism. Further
details, including adjustments will be found in more advanced texts.