PROJECTORS
A projector for viewing slides or motion pictures operates very much like a camera in reverse. The essential elements are shown in Fig. 36-5. Light from the source (an incandescent lamp bulb or, in large motion-picture projectors, a carbon-arc lamp) shines through the film, and the projection lens forms a real, enlarged, inverted image of the film on the projection screen. Additional lenses called condenser lenses are placed between the lamp and the film. Their function is to direct the light from the source so
that most of it enters the projection lens after passing through the film. A concave mirror behind the lamp also helps to direct the light. The condenser lenses must be large enough to cover the entire area of the fihn. The image on the screen is always real and inverted; this is why slides have to be put into a projector upside-down. The position and size of the image projected on the screen are determined by the position and focal length of the projection lens.
Overhead projectors used in classrooms use a similar scheme to produce an image on a projection screen, with two notable differences (Fig. 36-6a). After the light leaves the projection lens, an angled plane mirror reflects and reverses the image so that it appears right-side up on a vertical projection screen. Also, the light from the lamp is directed toward the projection lens by the clear piece of plastic on top of which the transparency is placed. This clear plastic is an example of a Fresnel lens. All of the lenses that we've discussed work because of the bending of light rays at the surfaces; no refraction occurs in the interior of the lens. If we could eliminate some of the material between the surfaces, we could greatly reduce the weight of a large lens. This is what a Fresnel lens (Fig. 36-6b) does. Each circular step copies the contour of the corresponding ring of anordinary lens; you can see these steps by looking at any overhead projector. Fresnel  lenses don't usually have high optical quality, but they are very light and inexpensive for their size. They are also used in traffic lights, solar-cell light collectors, flat pocket magnifiers, lighthouse lamps, and many other places.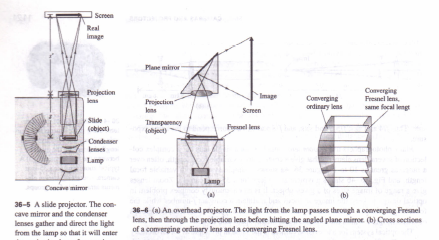 Related Physics Topics for Tuition