Recombination of the colours of the spectrum
The colours of the spectrum may be recombined to form white light by aIlowing the spectrum to be formed on a row of smaIl rectangular plane mirrors (Fig. 25.5). On adjusting the angle which the mirrors make with the incident light so that they all
reflect the light to the same place on the screen a white patch of light is formed.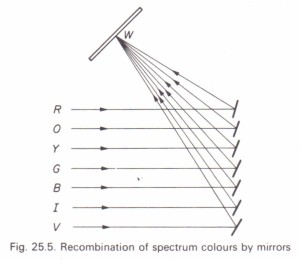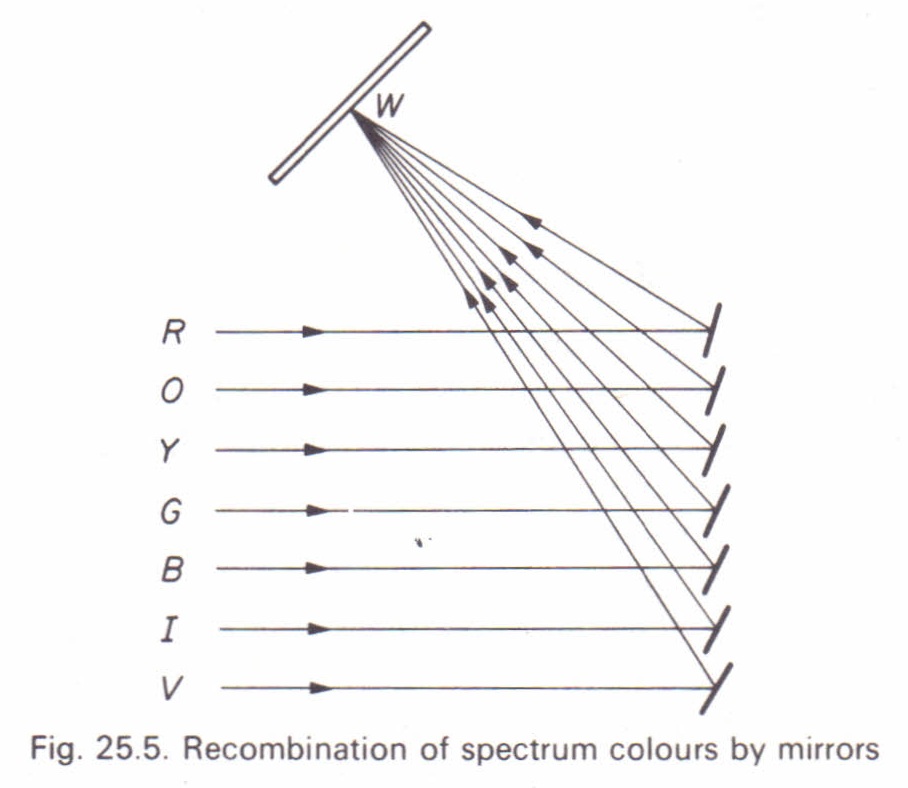 Newton showed the recombination of the colours to form white light in another way. He painted the colours of the spectrum in sectors on a disc. When rotated at high speed the disc appears white. It is only fair to say that the whiteness thus obtained is slightly greyish, owing to the difficulty of obtaining pigments which are pure colours. The experiment works by reason of the persistence of' vision. The impression of an image on the retina of the eye is retained for a small fraction of a second after the image has disappeared. Consequently, the brain sums up and blends together the rapidly changing coloured images of the disc, and thus produces the sensation of a stationary white image. It may be mentioned in passing that persistence of vision is responsible for the absence of flicker in the picture formed by a cine projector. In this case a constant succession of images of the film is thrown on the screen at the rate of 24 per second. The eye retains the sensation of each image until it receives the next, so producing an impression of continuity.
Related Physics Topics for Tuition