Sample Problem :MOTION IN TWO AND THREE DIEMENSION
For the rabbit in the velocity  time in unit vector notation and as a magnitude and an angle.
SOLUTION: There are two Key ideas here. We can find the rabbit's velocity by first finding the velocity Components. (2) We can find those components by taking derivatives of the components of the rabbit'S position vector. Applying the first of ,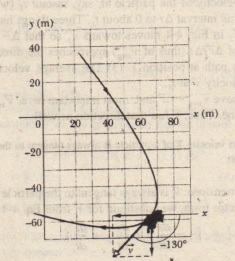 The rabbit's velocity .The velocity vector is tangent to the path at the rabbit's position at that instant. The scalar components of V are shown.
we find the x component of  V to be

To get the magnitude and angle of V, either we use a vector capable calculator or we follow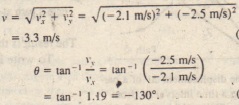 Although 50· has the same tangent,inspection of the signs of the velocity components indicates that the desired angle is in the third quadrant.
Related Physics Topics for Tuition