Showing the voltage swing of a transistor
A transistor can be used as an amplifier or as a switch. To understand the second of these, its voltage behaviour must be investigated. Fig. 45.15 shows a similar circuit to Fig. 45.14, but this time with a load resistor (R2), and with voltmeters to measure what is happening.
To vary the input voltage VI to the base of the transistor, alter the potentiometer VR in small steps and read this voltage on VI together with the transistor output voltage V2. The graph in Fig. 45.15 (b) shows the changes. It is an important graph. The result is the basis for the use of transistors in many digital circuits. As the input voltage VI increases from zero, the output voltage V2 stays constant at almost the full supply voltage until the transistor suddenly switches 'on' when the input voltage is about 0.7 V. This voltage is a characteristic of the semiconductor used, in this case silicon. The suddenness of this change makes the transistor suitable for use as a switch.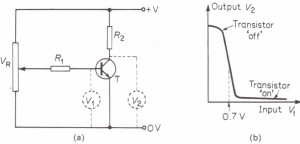 With a small base current (Fig. 45.15), the amplified collector current is small.
There is little voltage across the load resistor R2• As the base voltage is increased above about 0.7 V, the base current increases. So the amplified collector current increases many times more. This large current through R2 means there is a large voltage across it, and only a small voltage across the transistor. This sudden drop in the output voltage of the transistor is its most important feature. The transistor seems to alter its resistance in the circuit, from high to low. This is where its name originally came from. It is a transfer resistor. Fig. 45.16 shows the use of transistor as a switch. Although it can be operated mechanically with a simple two-way switch, it is often useful to use a sensor as, for example, in an automatic fire alarm.
Here a buzzer or bell will be sounded if the temperature (sensed by the thermistor) becomes too high. See Fig. 45.17. When the thermistor is cold, its resistance is high. It takes a large share of the power supply voltage and the potential difference across R is low, so the transistor is off. But as the temperature rises the thermistor resistance falls. The voltage across R rises. As
it crosses 0.7 V, the transistor switches on.
Related Physics Topics for Tuition