Suspending a magnet. Magnetic axis. Magnetic meridian
When a magnet is freely suspended so that it can swing in a horizontal plane it oscillates to and fro for a short time and then comes to rest in an approximate N-S direction. The magnet may be regarded as having a magnetic axis about which its magnetism is symmetrical, and it comes to rest with this axis in a vertical plane called the magnetic meridian (Fig. 30.2).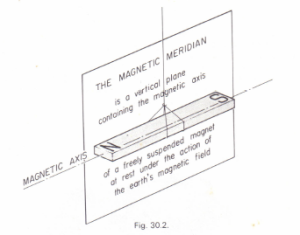 The pole which points towards the north is called the north-seeking or simply the N pole; the other is called the south-seeking or S pole.