The telephone receiver (earpiece)
The telephone receiver contains a U-shaped magnet formed by placing a short permanent bar magnet across the ends of two soft-iron bars (Fig. 36.14). This is placed so that it exerts a pull on a springy magnetic alloy diaphragm. Two solenoids are wound in opposite directions on the soft-iron bars.
When a person speaks into the microphone at the other end of the line a varying electric current is set up having the same frequency as the sound waves. A similar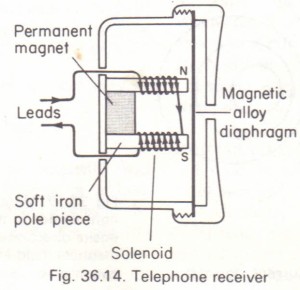 electric current is caused to pass through the solenoids in the earpiece. This alters the strength of the magnetic flux in the U-shaped magnet and produces a corresponding variation in the pull of the diaphragm. The latter therefore vibrates and reproduces a copy of the sound waves which entered the microphone.