The block and tackle
This is by far the most important pulley system of all, being commonly used for lifts and cranes. Two blocks are employed containing from two to eight pulleys in each, according to the mechanical advantage required. To illustrate the principle, Fig. 8.6 has been drawn to show two pulleys in each block. For simplicity, the pulleys are shown on separate axles placed one above the other. In practice, however, the pulleys in each block are mounted side by side and run independently on a  common axle (Fig. 8.7). A single string is used which passes round each pulley in turn.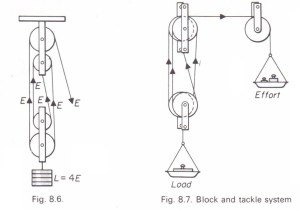 It will be seen from Fig. 8.6 that the lower block is supported by four sections of string. Incidentally, the number of sections of string supporting the lower block is always equal to the total number of pulleys in the two blocks together. It follows that, if an effort E is applied to the free end of the string, then the total upward force on the load will be 4E. If we neglect friction and the weight of the moving parts of the system, then, In practice, however, the practical mechanical advantage in a case such as this is always less than 4, since extra effort must be applied to overcome friction and the
weight of the moving pulley block and string. An experiment to measure the practical mechanical advantage of a pulley system is described later.