The Fortin barometer
Accurate measurements of the barometric height, often required in the laboratory, are made with a Fortin barometer (Fig. 10.13). This precision barometer was designed in the late eighteenth century by Nicolas Fortin, a French instrument maker.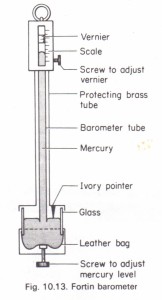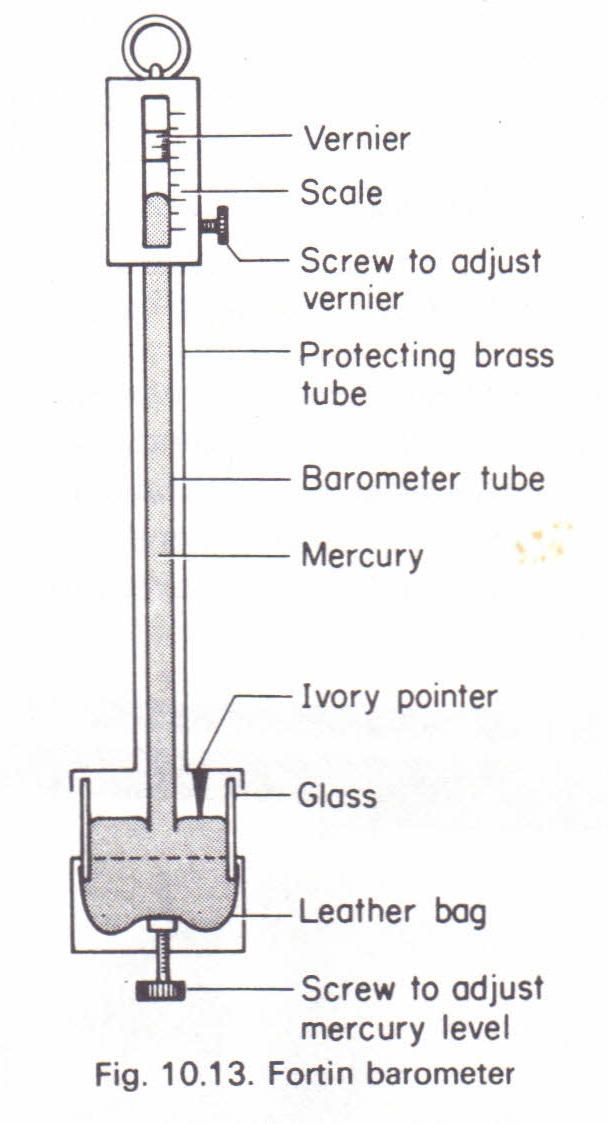 The tube containing the mercury is protected by enclosing it in a brass tube, the pper part of which is made of glass so that the mercury surface may be seen. Readings are taken by a vernier moving over a millimetre scale of sufficient length to
over the full range of variation in barometric height. The zero of the scale is at the tip of an ivory pointer fixed to the lower end of the rass tube. The mercury reservoir is a leather bag which can be raised or lowered by a – ew. Before taking a reading of the barometric height, the screw is adjusted until the p of the pointer just touches its image in the surface of the mercury. If the surface of e mercury is dusty, this adjustment can still be made with reasonable accuracy. A Fortin barometer thus measures the height of a column of mercury supported by uno spheric pressure. On page 108 we saw that the pressure due to a column ofliquid height h and density p is given by p = hpg, where g = acceleration of free fall. If e ignore the variation in the density of mercury with temperature and the variance in g with position on the earth, we see that the pressure is proportional to the eight of the mercury column. For many purposes therefore it is sufficiently accurate quote the pressure in terms of the height of the column, i.e., in millimetres of mercury (mmHg).
Related Physics Topics for Tuition