The Hofmann voltameter
A convenient form of apparatus for collecting the gases liberated during the electrolysis of various liquids was designed by the German chemist Hofmann (Fig. 37.1).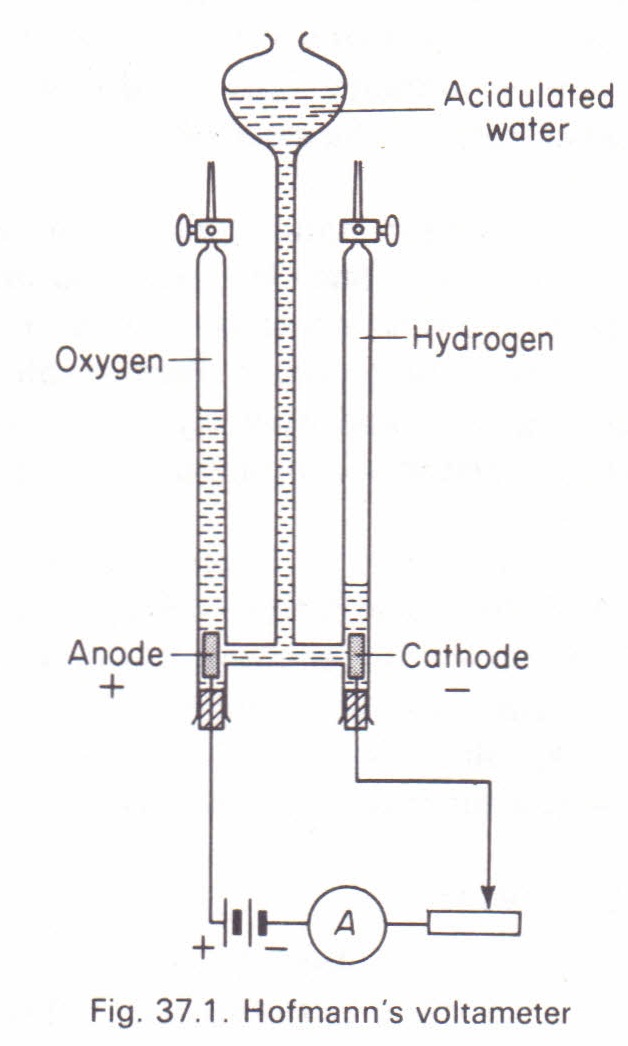 It consists of two graduated tubes fitted with taps and provided with platinum electrodes. The tubes are connected near the bottom by a short cross tube which has an upright tube and reservoir.
In order to study the electrolysis of water, the taps are opened, and water to which few drops of sulphuric acid have been added is poured in until the graduated tubes are both full. The taps are then closed and current is passed through the voltameter om a 6 V battery in series with a rheostat. The current is adjusted to give a steady stream of bubbles from the electrodes. When sufficient gas has collected it will be oticed that the volume of hydrogen from the cathode is approximately twice that of the oxygen from the anode. On opening the tap above the cathode and applying a light, the issuing gas is seen o burn with a pale-blue colour which is characteristic of hydrogen. Also, droplets of 'ater are formed on the outside of a test-tube of cold water held in the flame. These re the usual tests for hydrogen. When the tap above the anode is opened a glowing splint bursts into flame if held ill the stream of escaping gas. This is a standard test for oxygen.