The pinhole camera
This device is believed to be an Arabic invention of the eleventh century and was used for viewing eclipses of the sun without danger to the eyesight. It was described by Leonardo da Vinci in the sixteenth century, when it was known as the camera
obscura (~dark room). It t?ok the form of a small darkened room)nto which light was admitted through a single small hole in one wall. The result was that an inv:rted imag~ of the s~ene outside was formed on the whitened wall opposite. Artists of the time used It as an aid to achieve correct perspective in their drawings and paintings.
The present-day successor of the camera obscura is called a pinhole camera and consists of a box with a small hole in a metal plate at one end and a screen of tracing-paper or frosted glass at the other (Fig. 21.2). An image is formed on the screen which will be seen more clearly if external light is excluded by covering head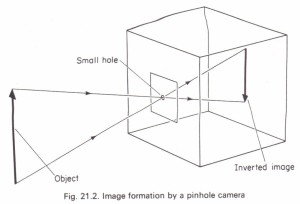 and camera with a dark cloth. Since light travels in straight lines, it follows that a given point on the screen will be illuminated solely by light coming ina straight line through the pinhole from a certain point on an object outside. Rays of light from the various parts of an object outside will thus travel in straight lines through the 0pinhole, and form a multitude of tiny patches on the screen. These tiny patches combine to form an inverted image of the object.
A blurred image results if the hole is made much larger than a pinhole. This may be explained if we think of the larger hole as being equivalent to a group of small holes close together, each of which produces its own image on the screen. These images overlap, and the resultant effect is an image which is brighter but very blurred. If a line is drawn through the pinhole perpendicular to both object and image it may be proved by similar triangles.
This fraction is called the magnification of the camera. For large magnification it is obvious that the distance of the object from the pinhole must be small compared with the distance between pinhole and screen. If the screen is replaced by a photographic plate or film very satisfactory pictures of still subjects may be taken with this camera using time exposures of suitable length (Fig. 21.3). Snapshots can be taken only with a lens camera, since the larger a rture
of the lens admits more light energy per second than a pinho e. On the other hand, a pinhole camera requires no focusing as does a ens camera (page 269). Although, according to the size of the pinhole, the image may be slightly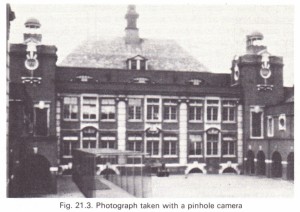 blurred, all parts of the image are in equally. sharp focus whatever their distances from the camera. In the language of photographers, the pinhole camera has an infinite depth of focus.
Related Physics Topics for Tuition