The sun as a source of energy
The interesting to trace back to their origin the series of energy transfers which lead the release of light energy by pressing an electric switch. The light is given out from a thin incandescent tungsten filament inside a glass The internal energy required to raise the temperature' of the tungsten wire is derived from the work done when the electric Currier moves against the resistance offered to its passage through the wire.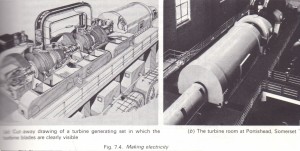 The electricity it~f is generated by a dynamo run by a steam turbine (Fig. 7.4). e turbine, in turn, is driven by expanding high-pressure steam, which we shall popes has been obtained by heating water in a coal-fired boiler.
Consists mainly of carbon and is formed from the remains of giant
rests which flourished millions of years ago. Changes in the earth's crust led to see forests becoming submerged beneath layers of sediment and subjected.
The plants from which the coal is formed derived their growth from the action 1 the sunlight in which they were bathed. Thus we see that the electric light and power from a coal-fired generating station comes to us by a series of transfers of energy which was poured out by the sun, millions· of years ago, and stored as chemical potential energy in coal. The reader may trace for himself the energy changes back to the sun in the case here electric generators are run by water power. In the examples of energy transfer considered above the last link in the energy chain is the transfer to internal energy. This is found to be true in all cases. Even the .right from the lamp finally turns back into internal energy when it is absorbed by . bodies on which it falls. This fact is referred to as the "degradation" of energy into maternal energy and has led some physicists to suppose that the end of life, as we 'now it, will come when all the energy in the universe is uniformly distributed as internal molecular energy at the same temperature.
Related Physics Topics for Tuition