To measure the density of dry air
A clean, dry round-bottomed flask is fitted with rubber bung through which passes a short glass tube carrying a short length of rubber pressure tubing fitted with a screw clip.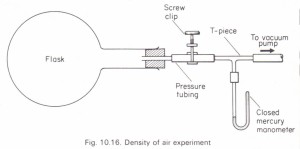 With the clip open, the air is evacuated from the flask by connecting it to a good vacuum pump (Fig. 10.16). All the air will have been removed, when the levels are the same on both sides of the closed mercury manometer. The clip is then closed and the mass of the flask measured with a balance.
The flask is now connected to a calcium chloride drying tube and the clip opened slowly to admit dry air into the flask. When no more air enters, the clip is closed and the mass of the flask redetermined. The atmospheric pressure is read from a barometer and the temperature is also noted. The volume of the air is found by filling the flask with water and inserting the
bung with the clip open. The bung is removed and the volume of the water found by using a suitable measuring cylinder. Record the results as below, in actual values instead of symbols.
Why do we record temperature and pressure?
Densities of gases vary to a much greater extent with changes in temperature and pressure than do those of solids and liquids; hence it is very necessary to record temperature and pressure in the above experiment. For fair comparison, therefore, the densities of gases are calculated at the standard temperature, O°C, and standard pressure, 760 mmHg (s.t.p.), How this is done is explained on page 180.
Note that we have used SI units in our experiment. Various workers use other density units for gases, e.g., micrograms/em" (ugycm ') or g/rn ', to suit their own particular convenience.
Related Physics Topics for Tuition