To study water waves with a ripple tank
A ripple tank for showing the properties of water waves comprises a shallow transparent tray of water with a point light source above it and a white screen on the floor below (Fig. 26.3). Before adding the water the tray is levelled with a spirit-level to ensure a uniform water depth of rather less than 1 em. Straight parallel waves may be produced by a horizontal metal strip, or circular waves by a vertical ball-ended rod. When either of these is dipped into the water a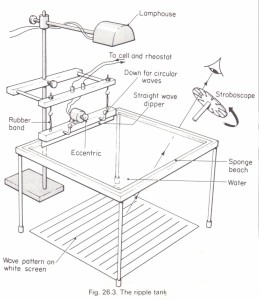 pulse of ripples is sent across the surface. Alternatively, continuous ripples may be obtained by fixing the dipper to a horizontal bar suspended by rubber bands. The
bar is moved up and down by the vibrations of a small electric motor having an eccentric (= off-centre) metal disc on its rotating spindle. A rheostat in the motor
circuit controls the speed and hence the frequency of the waves sent out. Owing to the lens effect of the wave crests and troughs, the light source produces a bright and dark wave pattern on the white screen below. In all the experiments which follow it is best to try the effect of single pulses first and afterwards to study the pattern formed by continuous waves. Use of a stroboscope. The progress of single wave pulses can be followed by the eye: so can that of continuous waves, provided that the wavelength is not too short. If desired, however, the pattern formed by continuous waves can be made to appear stationary by the use of a stroboscope (shown in Fig. 26.3). One of the simplest forms of stroboscope is a disc about 25 em in diameter with a number of
equidistant radial slits cut in it. Pivoted on a handle, it is rotated by placing a finger in a hole near the centre.
If the wave pattern is viewed through the slits as shown in the ripple tank diagram it is found that, for a certain speed of rotation, the waves appear to be at rest. This occurs if the time taken for successive slits to cross the line of sight is exactly equal to the time taken by a wave crest to move into the position occupied by the one in front. If the speed of rotation of the stroboscope is varied, the waves will appear to move either forwards or backwards. Precisely the same effect is in operation when the wheel spokes of a vehicle in the cinema or television screen first come to rest and then move backwards as the wheel slows up.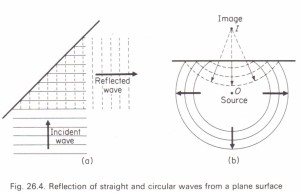 While on the subject of stroboscopes, it is worth mentioning a different type consisting of a lamp which flashes on and off at a controlled and measurable rate. This type is useful for examining and measuring the speed of oscillating or  otating machine components, which appear stationary when the lamp flashes at the correct frequency. Incidentally, neon and fluorescent discharge lamps vary in brightness 100 times per second when run off a 50 Hz alternating current supply. The light from them may be used to check the speed of record player turntables. A disc on which is drawn the appropriate number of radial lines is placed on the turntable and these lines appear to be at rest when the speed of rotation of the table has been correctly adjusted.
Related Physics Topics for Tuition