Torricelli's experiment. Simple barometer
About the middle of the seventeenth century an Italian scientist named Torricelli, living at Pisa, suggested an experiment to discount the theory that nature abhorred a vacuum. Torricelli believed that nature's supposed horror of a vacuum was caused simply by atmospheric pressure. In a famous experiment, first performed in 1643, he set up the first barometer, an instrument for measuring the pressure of the air. In the laboratory a simple barometer can be made by taking a stout-walled glass tube about a metre long and closed at one end, and filling it almost to the top with clean mercury. This is done with the aid of a small glass funnel and short length of rubber tubing. Small air bubbles will generally be noticed clinging to the walls of the tube, and these must be removed. With the finger placed securely over its open end, the tube is inverted several times so that the large air bubble left at the top of the tube travels up and down, collecting the small bubbles on its way. More mercury is then added so that the tube is completely full. The finger is again placed over the open end of the tube, which is now inverted and placed vertically with its end well below the surface of some mercury in a dish (Fig. 10.12).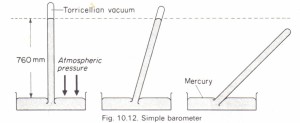 The finger is then removed and the column of mercury in the tube falls until thevertical difference in level between the surfaces of the mercury in tube and dish i about 760 mm. The vertical height of the mercury column remains constant even when the tube is tilted, unless the top of the tube is less than 760 mm above the level in the dish, in which case the mercury completely fills the tube. Torricelli explained that the column of mercury was supported in the tube by the atmospheric pressure acting on the surface of the mercury in the dish, and pointed out that small changes in the height of the column, which are noticed from day to day, are due to variations in the atmospheric pressure. The space above the mercury in the tube is called a Torricellian vacuum; it contains a little mercury vapour, and in this respect differs from a true vacuum.
Related Physics Topics for Tuition